COVID Procedure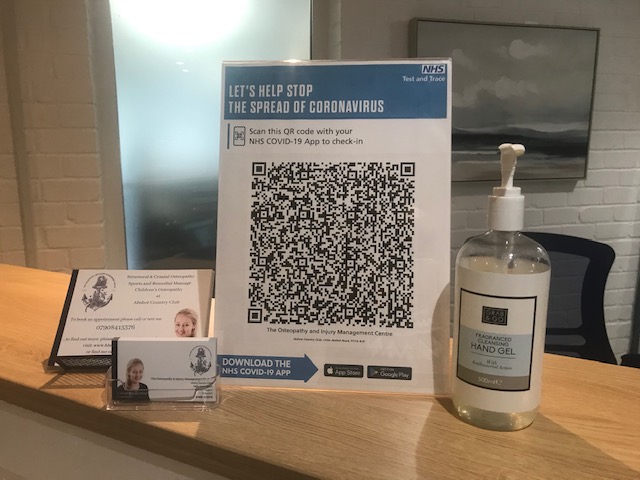 We are able to offer face to face appointments, assess and treat you but your safety is our first priority.
As of 1st June 2022 we are no longer required to wear a face mark, however if you would like your practitioner to be wearing PPE for your consultation and treatment please let us know. We want you to feel safe.
COVID Policy – no longer applies, but will be reverted to if advised.
Prior to booking an initial appointment:
Patients are required to complete a Covid 19 and screening questionnaire, the results of which are recorded on the Cliniko administrative system. The Osteopath will make a clinical judgement as to whether a patient can be seen 1:1
Patients are made aware that there are risks associated with a 1:1 appointment and the procedures in place to reduce the risks.
Patients are made aware that it is their responsibility to inform the clinic if anything changes with regard to their Covid 19 symptoms prior to any appointment.
Patients are asked to wear a face covering and to bring 2 towels with them to the appointment.
For the appointment
Patients are asked to wait in their car until the time of their appointment.
Patients are required to wear a face covering for the whole period of their consultation.
Hand sanitiser is provided for use on arrival and departure.
Patients will have their temperature checked prior to consultation, if it is high patients will be asked to leave and the appointment rescheduled.
Patients own towels are uses or clean towels are provided and laundered after each use.
Cards payments are preferred, but cash can be used if necessary.
Any pens or pin pads used are cleaned after use by each patient.
Patients are encouraged to scan the NHS Track and Trace QR code.
Staff precautions and protection
Your Osteopath will be wearing the required PPE.
The receptionist will be wearing a face mask.
15 minutes will be left clear between each patient to clean down and doors opened to ventilate the consulting room.
The door handles, reception surfaces, pens and pin pad are all wiped with a disinfectant wipe between patients.
2m distancing is observed where practicable unless full PPE is worn.
Covid 19 Risk Assessment
The Osteopathy and Injury Management Centre has carried out a risk assessment which is available for you to see on request. The risk assessment, and resulting procedures are reviewed regularly and updated with reference to government and the Institute of Osteopathy guidelines.
Hannah Ramsay
Abshot Osteopathy
March 2020, August 2020, October 2020, January 2021