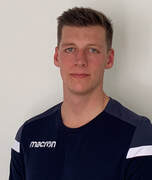 Level 3 Diploma in Sports Massage Therapy
Level 3 Diploma in Personal Training
Harry has been working at Abshot Country Club for 2 years. He is a qualified Personal Trainer and Sports Masseuse, and, as a member of the Sports Massage Association, Harry can offer 30, 45 or 60 minute massage sessions on Tuesday mornings.
Sports and fitness has been a major part of Harry's life. He has enjoyed encouraging children to keep fit through coaching and refereeing football and engaging with adults through his Personal Training support at the Country Club Gym. Sports Massage is a valuable addition to the injury rehabilitation and prevention we offer and also works alongside Osteopathy as a maintenance treatment.